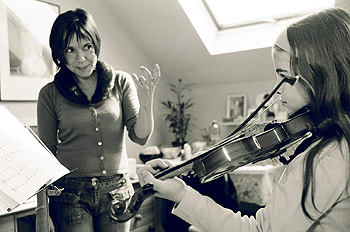 12 lessons course
Havas New Approach fundamentals
Each lesson covers one aspect of playing a string instrument.
(e.g. fundamental balances, the stance, the violin hold, the bow hold etc.)
The basics are always the same!
What's really important is how you use your body, since the instrument and the bow by themselves cannot do anything, they don't play.
---
Lessons for children
starting from 5 years old
---
Coaching for auditions
individual private study
---
Recommendations
Caroline Duffner-Punitzer has a beautiful and convincing way to teach and has a good pedagogic basis for the Kato Havas method. She has been invited by ESTA-Italy for her renowned professional experience. Numerous teachers and students have taken part in her courses,
continuing to be interested in her brilliant way of teaching.
Satu Jalas
"I have every confidence that Caroline Duffner, violin, and Monica Cuneo, viola, can continue my Summer School at St. Edmund Hall, Oxford. Both have studied with me many years and are very experienced New Approach teachers as well as accomplished performers."
Kato Havas